Managers still matter. With more than a decade of research, Project Oxygen at Google has shown that the qualities that make managers great have grown and evolved along with the company. Anyone interested in leadership should be interested in what follows.
Google - a company built on a very intelligent and lucrative "secret sauce" form of algorithmic search - has finally set out to apply its unique brand of "data analytics" to something that matters very dearly to our hearts: management practices.
Google's HR team, known as People Operations, commenced Project Oxygen in 2008 in order to "prove that managers actually don't matter and that the quality of a manager didn't impact a team's performance". This hypothesis was based on initial beliefs held by some of Google's early leaders and engineers that managers were, at best, a necessary evil, and at worst, a layer of bureaucracy.
The task was huge with more than 10,000 observations gathered about managers, across more than 100 variables from various performance reviews, feedback surveys and other reports.
The data quickly revealed that managers did matter: teams with great managers, who exhibited 8 critical behaviours, were happier and more productive. By publicising and training managers on these 8 behaviours, they saw an improvement in management and team outcomes including turnover, satisfaction and performance over time.
But a lot has happened since 2008! A decade later, Google took a second look at its research, refreshed behaviours according to internal research and Googlers' feedback, and put them to the test again.
This resulted in 10 behaviours of Google's best managers (behaviours 3 and 6 were updated, and behaviours 9 and 10 were new.)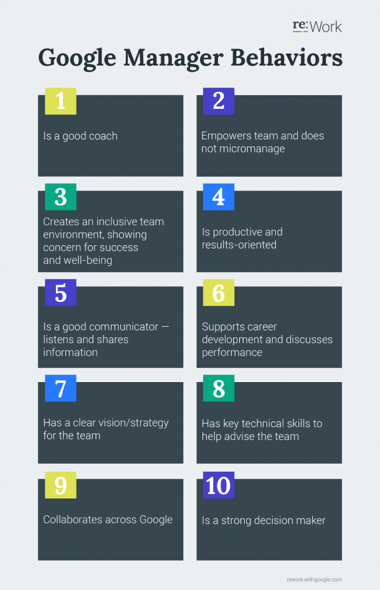 Googlers wanted to see more effective cross-organisation collaboration and stronger decision making practices from leaders. These two new behaviours were highly correlated with manager effectiveness, and the updated list of behaviours was even more predictive of team outcomes (e.g. turnover, satisfaction and performance).
These two new behaviours were incorporated into Google's management training. They were informed by research on psychological safety, unbiased efforts and the importance of establishing clear performance expectations.
Interestingly, Google found that technical ability was not nearly as important to employees as simply having a boss who was supportive to their needs. What employees valued most were bosses who acted kindly, fairly and took an interest in developing them (i.e. the boss as coach).
To be clear, the analysis was only concerned with building a list out of Google's own internal experience (of what employees at Google responded to in a boss), but it is worthwhile to consider the list's importance to leadership in general.
From our perspective, their findings validate "the basics" of good management practice, which are on display in dozens of books, articles and training seminars — disguised under different words. It probably also reinforces a lot of people's view that coaching is synonymous with management, or at least good management.
What do you think about the list? Is it too "basic", or does it nail good management practices?
For similar research, check out our article that summarises the findings of Project Aristotle, in which Google researchers studied what made a team effective at Google.
References
Michael Schneider, Inc. Google Got Rid Of Its Bosses -- And Then Brought Them Back For These 10 Reasons. 6 February 2019.
Melissa Harrell and Lauren Barbato, Google Re:Work. Great managers still matter: the evolution of Google's Project Oxygen. 27 February 2018.
Note: This blog post was originally shared on 28 February 2012, and it was refreshed and republished in November 2020 with up to date information and context.