Most will agree that emotional intelligence (EI), in its most simple definition, relates to the ability to manage your own emotional states and the states of others.
---
What is Emotional Intelligence?
Emotional intelligence (EI) has many different definitions circulating on the web and in various research papers, so the answer will most likely depend on which resource you consult.
Emotional intelligence, from a workplace perspective, can be seen as the ability to recognise, understand and use the power of emotions to facilitate high levels of collaboration and productivity.
Some other terms that are used to describe emotional intelligence include:
People Skills

Soft Skills

Relationship Skills

Common Sense

Maturity

Wisdom
Who created Emotional Intelligence?
The term EI came into the public spotlight when Daniel Goleman published his book "Emotional Intelligence, Why It Can Matter More Than IQ" in 1995; however, the study of different forms of intelligence began long before that book.
Since that time, many researchers and training professionals have developed tools to better understand emotional intelligence concepts and to measure individual EQ.
For more detail, see The History of Emotional Intelligence.
What is Emotional Quotient?
EQ, or emotional quotient, refers to the actual measurement of emotional intelligence operating in an individual or group.
The TTI Emotional Quotient, developed by Dr. Izzy Justice from EQmentor and Bill Bonstetter from Target Training International, is an assessment tool based on the 5-factor Goleman competency model.
At a glance, these are:
Self-Awareness:

the ability to understand yourself and how others perceive you.
Self-Regulation:

the ability to redirect negative emotions and think before acting.
Motivation:

the ability to initiate action and commit to achieving your goals.
Empathy:

the ability to understand the emotional makeup of other people.
Social Skills:

the ability to manage relationships, build networks and influence others.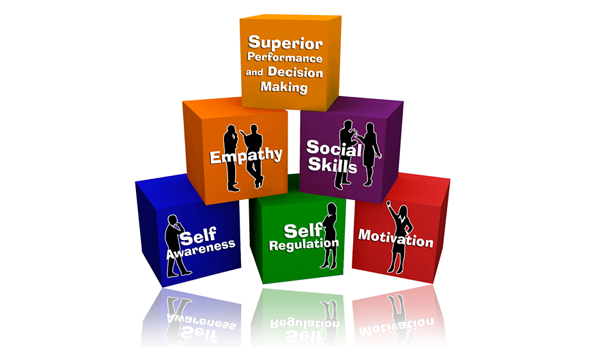 A Little About 5 EQ Factors
Self-Awareness:
The ability to recognise and understand your moods, emotions and drives, as well as their effect on others. The 3 sub components of self-awareness are:
Emotional Awareness: recognising your emotions and their effects
Accurate Self Assessment: knowing your own strengths and limits
Self Confidence: having a strong sense of your self-worth and capabilities
Self-Regulation:
The ability to control or redirect disruptive impulses and moods and the propensity to suspend judgment and think before acting. The 5 sub components of self-regulation are:
Self Control: keeping disruptive emotions and impulses in check
Trustworthiness: maintaining standards of honesty and integrity
Conscientiousness: taking responsibility for personal performance
Adaptability: remaining flexible and open to change
Innovation: being comfortable with novel ideas, approaches and new information
Motivation:
A passion to work for reasons that go beyond money or status, and a propensity to move into action and pursue goals with energy and persistence. The 4 sub components of motivation are:
Achievement Drive: striving to improve or meet a standard of excellence
Commitment: aligning with the goals of a group or organisation
Initiative: being ready to act on opportunities when they present themselves
Optimism: persistence in pursuing goals despite obstacles and setbacks
Social Awareness:
The ability to understand the emotional makeup of other people. The 5 sub components of empathy are:
Understanding Others: sensing others' feelings and perspectives and taking an active interest in their concerns
Developing Others: sensing others' development needs and bolstering their abilities
Service Orientation: anticipating, recognising and meeting the needs of others
Leveraging Diversity: cultivating opportunities through different kinds of people
Political Awareness: reading a group's emotional currents and key power relationships
Social Regulation:
A proficiency in managing relationships and building networks. The 8 sub components of social skills are:
Influence: wielding effective tactics for persuasion
Communication: listening openly and sending clear, convincing messages to others
Conflict Management: negotiating and dissolving disagreements
Leadership: inspiring and guiding individuals and groups regardless of position
Change Catalyst: initiating and/or managing change
Building Bonds: nurturing instrumental relationships for building strong connections
Collaboration and Cooperation: (working with others toward shared goals
Team Capabilities: creating group synergy in pursuing collective goals
Why Use EQ?
Research shows that successful leaders and superior performers alike have well developed emotional intelligence skills, revealing a whole new layer of what makes a great leader great. Mastery of EQ skills makes it possible for a person to work effectively with a wide variety of people. Because of the impact of emotional intelligence skills on decision making, people with higher levels of emotional intelligence are able to respond more effectively to what are often rapidly changing conditions in the business world. In fact, numerous studies have demonstrated that a person's EQ is be a better predictor of successful performance than IQ or expertise.
Best of all, every skill of emotional intelligence can be improved at any point in life. Unlike IQ, which tends to remain stable throughout a person's life, EQ does change as a person ages, improving as the number of experiences accumulate. This means that with guided experiential learning and practice, people can intentionally improve emotional intelligence.
Every person needs honest, unbiased feedback on their EQ, delivered in an environment that is non-threatening so they can take it in. Organisations that use computerised EQ assessments find that they get more positive buy-in from respondents. People more readily accept the feedback the computer gives them than they would if they were to hear the same feedback from their manager or another individual.
EQ principles provide a framework (or a set of terms) for discussing leadership competencies, management styles, attitudes and skills that matter for job performance and career success. With this framework in mind, people in your organisation will be able to "speak the same language" when it comes to assessing emotional competencies in recruitment and management activities.
The TTI Emotional Quotient provides scores on the five dimensions of emotional intelligence. Tapping into these dimensions enables individuals to maximise all of their skills, talents and capabilities. That is why understanding emotional intelligence is one of the most important initiatives one can undertake in career development.
Common Uses
Management Training / Leadership Development
Team Building / Team Effectiveness
Sales Training
Customer Service Training
Communication Training
Employee Engagement
Change Management
Cultural Alignment
Resolving and Preventing Conflict
Coaching / Mentoring
Reliability
Reliability is essential for an accurate, consistent, valid test. The Alpha coefficient (Cronbach, 1984) provides information about the internal consistency of a particular scale. Test-retest reliability provides information about the temporal stability of the assessment. Because emotional intelligence does change throughout one's lifetime and can be affected by key experiences, the retest administration occurred within a few days. As shown in the table below, all reliability estimates for the scales exceed the minimally-acceptable level of .700. Thus, reliability analyses show that the emotional intelligence assessment measures behavioural tendencies consistently and reliably.
Free EQ Profile:
Check out the EQ profile page, and request a free sample (or one of our combination profiles like Behavioural Intelligence (DISC and EQ) or TriMetrix). The EQ profile involves taking a 15-minute questionnaire online. Once complete, you will receive a 10-page report on your emotional intelligence with tips on how to be more effective when working with others. No hassle, no obligation, no pushy salesperson — all done online.
Competitive Advantages of the TTI Success Insights EQ Profile
We have chosen to work with TTI Success Insights for over 20 years. TTI are the world leader in online assessments with partners in 90 countries and over 100,000 companies using their assessments worldwide. We have examined many assessment providers in Australia in detail and have found that TTI are superior in a number of areas, which are included below.
1. Independently Validated
TTI Success Insights believe in having the most reliable and well-researched assessment tools available. In order to ensure this quality, they have all of their assessments validated by an objective third party. This means that their research and validation is conducted and singed off by an independent statistician. Ask your assessment provider if they conduct their validation studies externally, or whether they are done internally by their own staff.

2. Practical Business Focus
Our profiles do not contain pages of technical mumbo jumbo — they are designed for time-conscious business people with practical workplace goals in mind. This means that as a recruiter, coach, trainer, or consultant, you will have useful information that can be applied to a broad range of workplaces.

3. Easy to Debrief
The profiles generated by the TTI Success Insights Suite are designed with simplicity in mind. This means that you don't have to be a Ph.D. in Psychology to interpret the results and create value for your participants. You'll benefit from sophisticated computer software, coupled with simple, easy to understand layout and wording.

4. Industry Leading Delivery Platform
TTI Success Insights were the first assessment company in the world to develop a computer based DISC assessment and have led the industry ever since in computer delivered tools. Their patented Internet Delivery Service (IDS) is compliant with BBB EU Safe Harbor and other data protection industry standards. With advanced features — including Group Wheels, the ability to Compare Profiles and Export Data for research purposes — this means you have all the tools to support your organisational development goals.

5. Structured Debriefing Guide
These documents have been designed to assist EQ accredited professionals to debrief and provide feedback to their participants. The structured process leads you through each page of the profile step-by-step with activities and actions at each stage.

6. Multiple Languages
The TTI EQ profile is available in over 25 languages, with more being added every year. This means that a participant is able to answer the questionnaire in their native language and the profile can be produced in a completely different language. For example, if you're working with a Chinese participant, they can take the questionnaire in Chinese, but you can have the results delivered in English.

7. 12 Pages in Length
The TTI Success Insights EQ profile comes with scores and descriptions of the 5 core of emotional intelligence (Self-Awareness, Self-Regulation, Motivation, Empathy and Social Skills) as well an overall score, and feedback about what you can do to improve.

8. Customisable Profile
The Internet Delivery Service (IDS) gives you the ability to customise profiles by turning pages on and off, and even reordering pages. This means you can design the profile around your process, instead of designing your process around the profile.
9. Requires Accreditation
As a global leader in the assessment tool industry, TTI Success Insights require an international accreditation in order to access the Emotional Quotient profile. This means that we maintain a high level of professionalism and integrity around the assessment tools — you'll be well trained to use the tool.

10. More Than Just EQ
The TTI Success Insights research team have recognised the importance of emotional intelligence in shaping our world-view, however, it has its limits. That's why our profiling suite is made up of 5 sciences: behaviour, motivators, EQ, personal skills, acumen. And they continue to research additional areas.
11. No Adverse Impact (Legally Compliant)
In order to comply with U.S. law, assessment tools must be accompanied with an adverse impact study. Essentially this means that they do not adversely impact any minority groups. In their commitment to excellent, the TTI Success Insights EQ Assessment has an adverse impact study.

12. Leading Research and Development
TTI Success Insights is committed to ongoing research and development of their tools. They invest over $500,000 every year towards research projects to ensure that their tools are industry leading. TTI's data pool contains millions of individuals, collected over 28 years and the TTI research team incorporates more than 90 years of business, academic and neurological experience. TTI have an Applied Cognitive Research Lab, fully-equipped with an EEG machine to measure the electrical impulses that make up all brain activity. The research uses the EEG to study the brain activity as an individual's behaviours, skills, attitudes and motivations are assessed.
13. Support Resources
In order to ensure that you receive maximum value from your investment, our profiles come with comprehensive support materials including workbook pages, debriefing guides, facilitator's manuals, research papers, introductory e-books, games and more. This means that you can hit the ground running in both understanding and applying these assessments.

14. Phone Support
Our experts are only ever a phone call away (no extra charge). If you have questions or need some assistance in understanding or applying a participant's results, our team is ready to help. This means you will always have the support you need to facilitate a professional debrief, provide quality feedback, and help apply the profiles to each participant's unique situation.

15. Administrative Support
Going beyond phone support, we also provide administrative support (no extra charge). This can include sending instructions and passwords to your participants, managing the incoming profiles, and assisting with any technical difficulties that participants might have. This means that your time is freed up to focus on what you do best.

Find Out More on EQ Accreditation:
With our 30 years of experience, we have created the most thorough, customisable and user friendly EQ resources in the world. You receive more than 250 workbook pages customised to include your organisation's information, PowerPoint slides, research and validation data, and much, much more.
For more information on EQ Accreditation Click Here.